IN THE SPOTLIGHT
olumn_The peninsula of Peljesac is located between Split and Dubrovnik. It is about 70 kms long and wide about 20 km, with low mountains, from 400 to 1100 meters, and covered by typical Mediterranean shrubbery. The hunt is done on foot, searching for Mouflon sheep with the binoculars from valley to valley. Trophy quality is exceptional and, in fact, a...

umn_In the outskirts of Skopje there's a mountain 2.500 meters high with a big canyon, about 800/1000 meters deep, which was proclaimed the national park of Karadzica, and mount Sara. Around 3500 chamois of the Balkan subspecies live there. At the beginning of Karadzica canyon there is a hunting house consisting of three single rooms, from where the hu...

umn_The Biokovo hunting area is located close to the Adriatic sea, in the proximity of the city of Split. The area is situated on the mountain of Biokovo at about 1.700 m of altitude and there's a large population of Balcanic Chamois. This is the most famous reserve for Chamois in Croatia and it has been closed for foreign hunters for over 10 years. Th...

xtSiberian snow sheep inhabit the mountains in the North of Siberia, from Ural to Kamchatka. There are 5 – 7 species, depending if the classification is scientific or based on the hunting classification promoted by the safari Club International. These are large mouflon sheep, very similar between each other, with small variations in fur color, body size and...

vc_row_inner padding="0"The hunting area is the private hunting ground "Cesma", approximately 40 minutes driving from Zagreb. This reserve is composed of 8.000 hectares of woodlands, of which 350 hectares are fenced. A lovely hunting house is located in the middle of the reserve, having 14 beds in single and double rooms. Th...

extWe organize wild boar driven hunts in the forest reserves of Plavna/Kamariste and Karakusa. Both reserves are situated in the plains of Vojvodina, along the river Danube, covered in oak woods and are specially equipped for wild boar driven hunting with high seats, expert staff and the results are guaranteed owing to the great numbers of wild boars. Thre...

="0"Kri Kri Ibex hunting is permitted on several Greek islands where, years ago, the Ministry of forestry has displaced a small number of animals from the Thermesos National Park, on the island if Crete, where a consistent population can be found, in order to create so-called "reserve populations" in order to protect the spe...

n Serbia there is one of the most numerous roe deer populations in all Europe. This species inhabits the vast plain lands to the North of Danube in Vojvodina, living in the cultivated fields or in little woods alternating with fields to the South of Belgrade. Their excessive number make it necessary to reduce it while at the same time selecting male roe dee...

umn_Slovenia is a small country in the Alps, with peaks high up to 3.500 meters and many chamois. The hunt is done by stalking and lodging is provided in hunting houses or in small hotels in tourist areas. This hunt is relatively difficult and requires a good physical preparation Moreover this hunt is very well organized, with guides that know the ani...

tIbexes in the Spanish mountains are the most valuable animals of the Iberian fauna. There are four different officially acknowledged species: Gredos, Bezeite, Sierra Nevada and Ronda Ibex, which differ in form and horn length from one another. The Mounts of Gredos are situated at about 150 km from Madrid and represent an ideal habitat for the goat of Gre...
Sergio Dimitrijevic
More then 50 years of experience in hunting!!!
The first Safari International is born in mid eighties, based in Yugoslavia, and Srdja continues developing sustainable hunting activities throughout the territory and introduces the first international destinations. Over the years Safari International has grown to become one of the largest and most present hunting organization worldwide, becoming International Safaris Corp. in order to give a roof to all the Safari Internationals born in the meantime and to all of its international representatives in Macedonia, Croatia, Serbia, Mongolia, Italy, Argentina, Spain, Germany, South Africa and United States. Today, International Safaris represents outfitters worldwide and manages privately owned reserves in Europe, Asia and Africa. Srdja is still a passionate hunter, traveling personally to each destination offered, verifying the regularity of hunting activities, legal organizational issues and hunter safety. He is an ardent sustainer of the Safari Club International on an international level and organizes nature campuses for young hunters, believing that our children should not only be taught how to hunt, but also how to respect and appreciate nature surrounding us. He has transmitted his passion for hunting to both his children, to whom he has given the opportunity to experience some of the most spectacular places in the world, while following him in unforgettable adventures.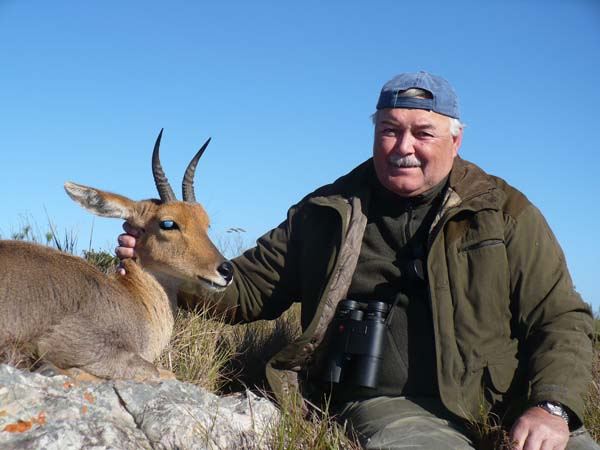 meet our team
Srdja Dimitrijevic
General manager
Spain 
+34 67 1213205

Franz Budimac
Regional representative
Germany
+49 (0) 152 56504466